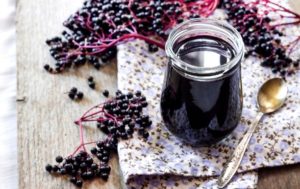 Elderberry syrup has held a place in my refrigerator for close to 10 years now.  It's so easy to make, and it's something great to have on hand should you (or one of your family members) start coming down with cold symptoms.  For the first couple years, I gave a spoonful to my kids daily and took one myself too as a preventative, but then I learned that it's not necessarily meant for daily use.  So now I reserve it for only when that first tickle in the throat or bit of congestion or cough starts.
There is a lot of flexibility with this recipe too.  I'm sharing mine below as my kids approve of the flavor (and that's the most important part, right?).  It's not helpful for their health if you can't even get them to take it!  Some people add cloves, echinacea, anise, or other herbs.  I like mine nice and simple, so here you go!
Just one additional note I'd like to make is that while you might be tempted to reduce the honey in order to cut back on sugar, don't do it!  Reducing the honey in this recipe can make it mold faster, and nobody wants a spoiled batch of elderberry syrup right when you need it most!
Denise Brusveen is a Certified Women's Herbal Educator and Hair Tissue Mineral Analysis Practitioner  and holds a Master of Science degree with a research emphasis in reproductive physiology.  She is passionate about helping girls and women to become informed about holistic options to overcome health challenges related to their hormones.
If you're struggling with constipation, it's important to make sure that you've got the basics covered first: Are you drinking enough fluids throughout the day? Are you getting enough fiber through your diet via fresh fruits, vegetables, and/or whole grains? Are you...